You may have heard a lot about World Book Night already but I wanted to reach out to see if you would con­sider men­tion­ing it on your site or post­ing a graphic about the event which I can send. The event will take place on April 23, 2012 across the U.S., UK and Ire­land. Dur­ing World Book Night, 50,000 peo­ple, named as "book givers," will each be giv­ing away 20 books from a select list with a goal to have 1,000,000 peo­ple across the United States alone cel­e­brat­ing read­ing en masse.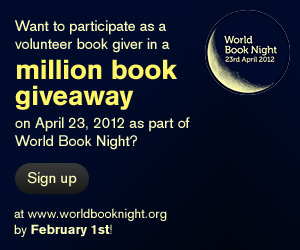 There will be adult books and young adult titles given away. Peo­ple can sign up at http://www.us.worldbooknight.org/about-world-book-night/register-as... by Feb­ru­ary 1st to apply to be a "book giver." You can see the com­plete list of titles that includes books from authors like Jodi Picoult, Michael Con­nelly, Stephen King, Bar­bara King­solver and Junot Diaz, among oth­ers at: http://www.us.worldbooknight.org/wbn2012-the-books.
I signed up — now it's your turn.