April is National Poetry Month!
Share your activities, reviews and giveaways
which celebrate poetry here!
I'll go first...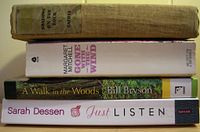 Make your own Book Poetry!
In honor of National Poetry Month I have created my own bit of verse. I chose books from my shelf that sounded like spring and put them together. In case you can't read sideways here's what my poem says:
Shadows on the rock
Gone with the wind
                                                         A walk in the woods
                                                                                                                Just listen
 Enter your book poem at my blog for a chance to win an uncorrected proof of Robert Hass' The Apple Trees at Olema (2010). Hass is a winner of the National Book Award and the Pulitzer Prize and served as Poet Laureate of the U.S. from 1995-'97. In addition to Hass's book the winner will receive a gently used copy of Emily Dickinson: Selected Poems.
Open through April 30th to U.S. Residents.