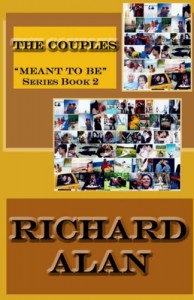 Richard Alan will be touring March 5 - 23 2012 with his fiction/family/relationships book, The Couples.
This novel follows seven couples as they explore their relationships to determine if they are meant to be together. As the couple's lives intertwine we learn how the world around them helps or at times hinders them. Their story comes alive with carefully crafted characters that the reader will identify with and want to know more about. Their struggle to move from individuals to couples to families is richly depicted in this work.
Richard Alan's second book in the "Meant to Be" series further explores relationships, love and life.
You can visit his website at www.drummerfiction.com.
This book is available in both paperback and ebook for review. If requesting the ebook, please tell us which e-reader you have.
If you would like to review The Couples, please fill out our easy and convenient form at http://www.pumpupyourbook.com/2012/02/04/new-book-for-review-fictio...