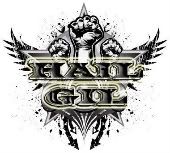 Hail Gil is announcing its GIVEAWAY Program for all authors. If you have works that you wanted to be given away to your readers, I can set you a date to host giveaways.
What will you get if you will have a giveaway in Hail Gil?
First, you will be given an additional exposure among my readers. Currently I have 600+ subscribers from all sorts (and still counting) so you will be well introduced to them.
Second, aside from I will host you a giveaway, you will be given the chance to speak to all subscribers of mine and to your potential readers. This opportunity is given to every author who wanted to me to host their giveaways to establish rapport among readers.
Third, our contact will not stop after your giveaway is hosted in my blog. I will still have a constant connection to you so that all your writing announcements and updates, if you have any, will be posted in my blog as part of your promotions. I will do this for free.

Contact me at gilnambatac(at)gmail(dot)com to have your giveaway hosted ASAP!
PS. Hail Gil is also offering a very CHEAP Book and Author advertising. Click here.